Write Ups
Your entry door to the world of efficiency and accountability (ROI) Welcome to your first step to become an ROI specialist and finally prove sales and marketing's worth in real economic terms in a credible way.

Research Strategy for Brand Recovery Post COVID
COVID-19 has driven marketing spends down globally, and the economic impact of the cvirus has resulted in major pullbacks across industry verticals. But there are now strong signs of recovery. Businesses are quickly rebooting their brand strategy to recover revenues post the global COVID-19 reset. But no pivot is automatic, brand teams have to make it happen in a relatively short period marked by more efforts and possibly chaotic activity. It is a competitive race which shall have many losers and a few winners. It all starts with one of the most underrated, indispensable part of brand management – research; to figure out what is going on in the environment and what will work for you.
So how are businesses leveraging research to defying the immediacy of prevailing economic pessimism? It is with a refreshed three step research strategy for a swift brand recovery towards a quick, sustained, long term turnaround.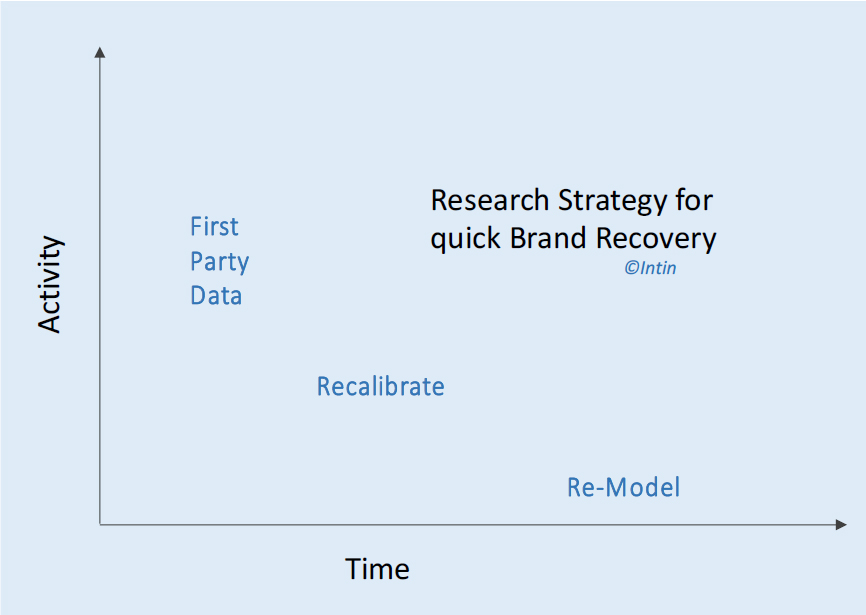 1. First party Data
Data has, for long, been touted as the fuel of twenty first century. It is also the starting point of any effective business pivot or brand re-plan or consulting is the access to reliable data. For decades, global brands and large research agencies outsourced this task to third party field data providers. All this while researchers restricted themselves to creating questionnaires, and to possible select in-person qualitative research. A few smart brands built first party data as a safety net to triangulate the findings from third party data. These few brands, today, have an edge over the others. A marked trend in Gen-M (The Mask Generation) is all of us wearing masks, maintaining physical distances and weary of talking to unknown people. Lack of trust with strangers has led to an immediate drop in willingness to respond. So, how a brand does research now? There is only one solution; use your own first party panels or build alliances with small community owners who will provide you access to their members. Former (own panels) is expensive upfront but more long term while latter (alliances) requires availability of partners. Either way there is no escaping it. Once the qualified pool of respondents is ready, brand can use digital tools to reach them at will.
2. RE-CALIBRATE
While budgets will take a cut in 2020, brand teams will be expected to deliver revenue as if it is business as usual. Brands are under pressure to recreate advertising with fresh insights, quickly launch new products variants to monetise new opportunities, rethink multi-media marketing and more while working from home. This outlook is to be expected across industries, be it retail, media, financial services, technology, healthcare or any other industry. Despite the inertia to use existing benchmark data, to assess advertising lifts or estimating impact of consumer offers, all old books need to be shut and forgotten. ROI of marketing spends will garner importance like never before so it is important that brand managers create, or re-calibrate their existing algorithms. One of the TimeActivityResearch Strategy for quick Brand RecoveryFirstPartyDataRe-ModelRecalibrate©Intin ways to do this is to use technology to build an instant-response ecosystem with your first party data. This is where external partnerships are warranted. Reach out to digital transformation experts, who can work with the brand team to build new ways of delivering results.
3. RE-MODEL
Prior and post the COVID-19 reset, all brand teams are really taking three decisions regularly – advertising, trade promotion and consumer promotion to impact their sales and/or brand equity. They could be categorised in two buckets; effective brand teams who built algorithms using historical data, and others. With COVID-19 reset, historical data is suddenly no longer valid and all brand teams need to re-estimate their algorithms to re-model. Impact of each media vehicle, trade promotion, shelf spends and consumer offers have all to be remodelled to see which works better than the other because overall budgets are getting squeezed in favour of performance marketing If you did not have a modelling mechanism, this is your opportunity to catch up. And if you have the models, you need to rebuild market scenarios. It is crucial to note that COVID-19 has led to fragmentation of mass markets based on communities and accessibility. Hence, one mass algorithm has given way to multiple, more-accurate algorithms, which are different for separate consumer segments. All this can be built using technology tools under mentorship of experts who train existing team members to use it.
OUR RECOMMENDATION:
This is once-in-a-lifetime opportunity where reset button has been pressed on relevance of historical market data. Like all the great brand teams are partner experts to adopt the three-step research approach to brand recovery post COVID-19 reset.
* * *
Intelligent insights (Intin) is a Business Intelligence Platform that combines the power of technology tools with the insightful experience of seasoned consumer marketers and subject matter experts.
---