Write Ups
Your entry door to the world of efficiency and accountability (ROI) Welcome to your first step to become an ROI specialist and finally prove sales and marketing's worth in real economic terms in a credible way.

A History of India's TV Ratings Measurement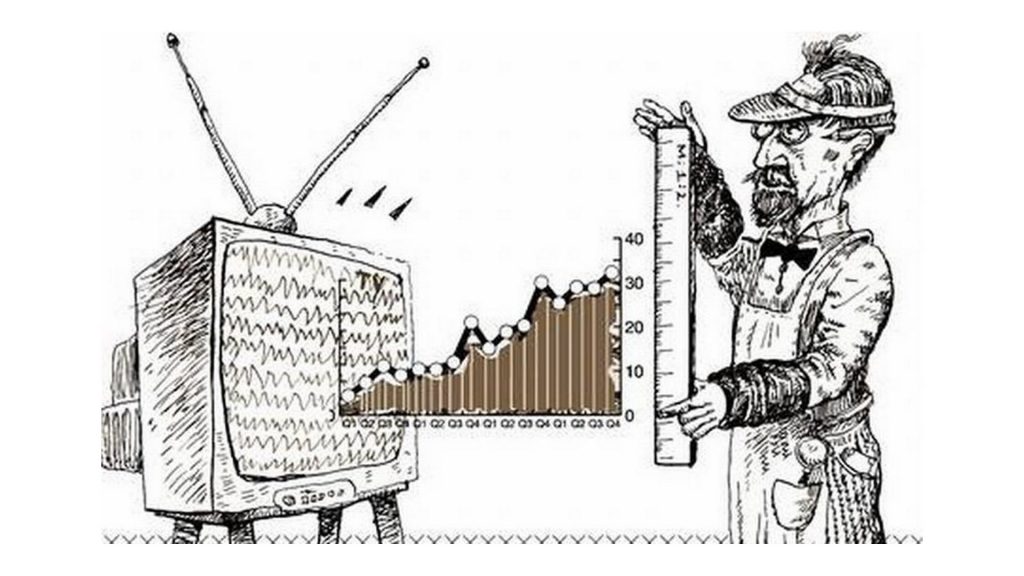 In India, television viewership measurement or television rating points (TRPs) have been in existence since 1993. Initially, the only data available and followed was through state owned Doordarshan audience ratings (DART), collected by its own 40 offices and 100 government owned All India Radio stations. The main function of DART was to provide research support for the programming. Starting with general viewing surveys up to 1988, panel diaries were introduced in 1989 and continued till 2001.

Measurement). INTAM"s sample size was miniscule and restricted to major cities. While INTAM was still in operation, in 1998, a second rating agency TAM was formed. In 2001, INTAM formally merged into TAM and began the first era of single accepted audience measurement replacing manual diary measurement with metered system. In 2007, a rating agency, Audience Measurement and Analytics ltd. (AMAP), started an alternative to then monopolised TAM. Operations of both these agencies were limited to a few large cities with population of above one lakh. Within big cities too, their panel size of households for audience measurement was limited to about 7000 for TAM and 6000 for AMAP metered homes. In 2011, AMAP discontinued its services and TAM Media Research again became the sole provider of television rating services on a commercial basis. Its panel size of households for audience measurement was approximately 8000 homes.
Meanwhile, concerns were being raised regarding the credibility of a private monopolised rating system. In 2008, government's MIB (Ministry of Information and Broadcasting) sought recommendations from the regulator TRAI (Telecom Regulatory Authority of India) on various issues relating to the Television Audience Measurement (TAM) i.e. Television Rating Points (TRP) and the policy guidelines to be adopted for Rating Agencies. Recommendations highlighted need for Government to regulate the system of television ratings. TRAI also recommended the approach of self-regulation through setting up of an industry-led body, the Broadcast Audience Research Council (BARC). BARC was accredited by Ministry of Information and Broadcasting (MIB) on 28th July 2015, to carry out television ratings in India. TAM Media Research, the sole private rating agency then, did not register itself with MIB and discontinued its operation. BARC commenced its operations in 2015 and it is the sole provider of TV rating services on commercial basis with effect from 1st January 2016.
BARC is an industry led body represented by Indian Broadcasting Foundation (IBF), Indian Society of Advertisers (ISA) and Advertising Agencies Association of India (AAAI). Currently, more than 550 TV channels are being monitored for the purpose of audience measurement by BARC. These 550 channels who are being monitored by BARC are a subset of the 850+ licensed television channels in India. Only those channels which subscribe i.e. pay for this service, avail of BARC monitoring. All the TV channels included in the audience measurement are watermarked by BARC. Watermark is a code inserted into the audio channel of the signal of a TV channel prior to up linking it to satellite. Each TV channel is allocated a unique code for its identification for carrying out the audience measurement. BARC, through survey, constitutes a panel of households wherein meters are installed on TV sets.
Presently, BARC has installed approx. 44000 meters. Meters continuously and passively capture the audio codes embedded on TV channels which are being viewed in real time. The raw data, captured by the meter, is then received by the BARC server, where it is made available to pre-processing software that cleans the raw event data, checking for errors and inconsistencies. The pre-processed data is then subjected to further processing with software that performs data editing, validation and weighting. The final weighted and projected audience viewing output is encrypted and made available to subscribers of BARC in on weekly basis.
* * *
Ashok Venkatramani is the Founder of Intelligent Insights .
---